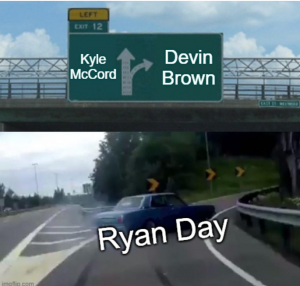 This is how Ryan Day has been handling the supposed QB "Battle" (imagine me rolling my eyes as you say that)
Open your eyes Ryan, please, we're all begging you.
McCord is QB 1, if you've watched a single second of Ohio State football or have a pulse at all, you'd agree.
Devin Brown has done nothing to separate himself but for some reason Ryan Day has insisted on continuing to trot him out at the weirdest times this season.
Notre Dame is knocking, and McCord needs to be the one to answer.
This week, the Bucks have another hill to climb as Western Kentucky makes their way into the Shoe for a weird 4pm showdown.
It may not be the Kentucky Derby but teams sure love to run against the Hilltoppers. Their defense is currently allowing an average of 265 ypg on the ground to teams like *Checks Notes* South Florida & Houston Christian…
Expect a big day from Henderson, Williams, and Chip.
Ohio State 38 Western Kentucky 10
I don't know who Ryan Day thinks he's fooling. 
 
But literally no one on the planet buys that Devin Brown is QB1 for this team. 
I'm not 100% convinced DEVIN BROWN thinks he's QB1. 
 
But for some reason, Ryan Day continues inserting Brown at the most random points of the game. 
There's no rhyme or reason. It's literal chaos. 
 
Just hundreds of thousands of eyes peering from the stands trying to see who trots out from the sideline every time Ohio State gets possession. 
 
It's madness that Day continues to keep up the charade. 
His team is headed to South Bend next week and they're still officially in a quarterback battle. 
And it's not like they're playing A-level programs here. 
 
Kyle McCord has looked firmly "fine."  
Nothing more, nothing less. 
Kinda accurate. Somewhat serviceable. 
 
"Fine" isn't the standard at Ohio State. 
 
The fact that he hasn't separated himself from Brown against competition like Indiana and Youngstown State is . . . troubling. 
 
The fact that Ryan Day continues to yank him in and out of the lineup with no rhyme or reason  
is also . . . something. 
 
Oh well! 
 
OHIO STATE 34 WESTERN KENTUCKY 24