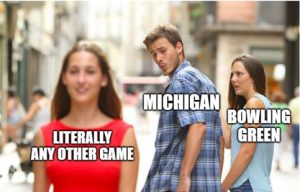 Michigan came out on Saturday night under the lights in an electric atmosphere and treated the Michigan faithful to the most mid performance I've seen from them in a long time.
McCarthy had three picks, they had trouble handling kickoffs, and even though they never really felt in danger of losing this game, being up 14-6 at half against a team as bad as Bowling Green is something…
They survived, and now it's a new week and a new focus.
The boys from Jersey are coming to town undefeated and motivated.
But after an atrocious showing last weekend, Harbaugh is back on the sidelines for the first time this season and I fully expect Michigan to rally behind their guy.
Michigan 35 Rutgers 17
"I'm going to take all those on the chin."
McCarthy didn't shy away from his mistakes in the post-game interview.
After throwing three interceptions against Bowling Green, he knew that can't happen again.
McCarthy is a calm, cool, and collected character.
He posts inspirational quotes from Seneca and Gandhi on his Instagram.
He quietly meditates underneath the goalposts while music blasts around him in warmups.
After two weeks of near-perfection, some regression was bound to happen.
Was it shocking? Absolutely.
Should we panic? Only if it happens again.
The second year starter has a vast portfolio.
2022 saw an efficient quarterback with electric legs.
2023 has already seen the electricity surge upwards into a high-voltage passing attack.
He's beaten Michigan State, Ohio State twice, and made two College Football Playoff appearances.
Since his arrival, Michigan has gone 25-3. He's 12-1 as a starter and eyeing a third straight B1G title.
And more.
The sky ain't fallin'.
Find a goalpost, close your eyes, and take a breath.
 
MICHIGAN 38 RUTGER 9